About The Bargains Group
Canada's Supplier of Wholesale Products to the NFP Sector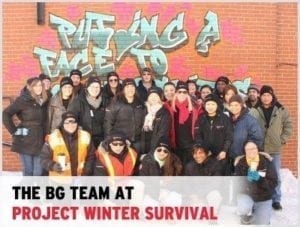 Founded in 1988 by Chief Bargain Officer, Jody Steinhauer, the Bargains Group has grown into Canada's favourite discount wholesaler of promotional products, clothing, t-shirt printing, accessories, gifts, bedding, personal hygiene products and more.  We provide businesses, non-profits and retailers with these quality products at below wholesale pricing for brand building, charitable giving and profitable resale.  We're famous for our $2 t-shirts and 50¢ socks, but offer over 10,000 other promotional products and non-branded good – with new stock arriving daily.  Be the first to discover great new bargains by signing up now for The Bargains Alert newsletter.
All of our products are shipped from Canada and our creative staff are dedicated to truly exceptional customer service. Put our bargain power to work for you.  Call us today at 1-877-868-5655.
For the NFP Sector
Not-For-Profit Supplies: Do More with Less
When your mission is to bring hope and save lives, every dollar counts. That's why charitable programs across Canada count on not-for-profit supplies from The Bargains Group.  Famous as the clothing supplier that offers $2 t-shirts, our company embodies the mantra of our founder, Jody Steinhauer,  "Giving back makes good business sense".  We've helped thousands of non-profits stretch their budgets up to four and five times further, for family clothing, accessories, gifts, toys, bedding, hygiene products, fundraising items and more.
Organizations that do more with less thanks to The Bargains Group include the Salvation Army, Red Cross, Canadian Mental Health Association, Crime Stoppers, Habitat for Humanity, Raising the Roof and hundreds more. We also work with corporate and community donors through our Donor Direct Referral Program.  It allows your donors to call us directly, saving time and money so that you get more of your desperately needed items.
Call The Bargains Group today at 1-877-868-5655 and find out how we can help you!
For the Promotional Sector
For Promotional Products, Canada's Best Choice is Bargain's Group
If you are attaching your good name to a promotional product, that item has to be quality.  Bargains Group delivers unmatched value for promotional gifts like branded t-shirts, golf shirts, ball caps, water bottles, sports bags, golf towels, and office accessories.  Back in 1988, when Bargain's Group was founded, Jody Steinhauer hunted bargains personally and passed these savings on to a growing list of satisfied clients for their meetings and events, product branding, and trade shows.
Today, the Internet allows other promotional product companies to claim hundreds of thousands of products on offer.  But at The Bargains Group, we still insist on personally ensuring the exceptional value of every promotional product we offer in Canada. The products you see on our website are also available in our Toronto showroom, which you are welcome to visit.
Call us now at 1-877-868-5655 and speak to one of our Bargain consultants to find the right the perfect promotional gifts.
For the Retail Sector
Bargains Group is a Leading Wholesaler for Canadian Companies Big and Small
Want to thrive in today's hyper-competitive retail marketplace? Deep knowledge of markets and key supplier relationships makes Bargains Group a go-to wholesaler for everyday discounts that matter to Canadians.  Thousands of retailers across the country, from Winners, Army Navy and Giant Tiger to smaller chains and independents, have relied on us for quality products at below wholesale prices.
We've tailored our personalized service to the unique needs of retail, including fast turnaround times and a popular "Pack and Hold" service that locks in pricing for up to 6 months, so you can reserve stock at the lowest wholesale cost. Famous for our wholesale clothing, including $2 t-shirts and 50¢ socks, we also carry over 10,000 items at up to 80% off.  We are continually sourcing new products so you can offer fresh door crashers to drive store traffic.
Discover why the award-winning Bargains Group is one of Canada's leading clothing wholesalers and a dependable source for popular products that help you beat the competition.  Call us today at 1-877-868-5655 and put our buying power to work for you!
Top