Bargain Ambassador
If you want to make some extra money just for telling people about our great bargains – just give us your details below and we will tell you in less than 3 minutes how you can make hundreds of extra dollars just by helping your friends save money!
Most bargain ambassador cheques are $50 or more! Referring 10 friends can earn you more than $500!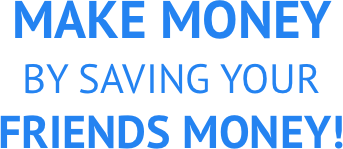 Easy as 1-2-3
Spread the Word!
Tell your friends, family, co-workers… anyone you know about the Bargains Group! We can help anyone. Who doesn't love a bargain?
Send an Email!
Simply make an introduction to the Bargains Group. An email is all we need, but be sure to include their name and phone number.
Send an Email!
Even if your friend takes a year to place an order, you still get paid! You will receive a cheque for 5% of their first order.
Remember, anyone you know is a potential Bargains Group customer!
At the office?
Taking the kids to soccer?
Volunteering?
Uniforms
Water bottles
Jackets
Foam fingers
Gifts
Mugs
Pens
Event supplies
Holiday gifts
Custom apparel
Clothing
Personal care
Holiday gifts
Free donations with our Full Circle Donation Program
Click for an example of an introduction email!
To: [email protected]
Cc: Your Friend's Email
Subject: Introduction Letter: Bargains Group
Hey Jody,
I wanted to introduce you to Friend's Name (please include any relevant details about your friend, like what they do or need).
Friend's Name - meet Jody, she is the owner and president of Bargains Group and can help you out!
Friends' Name, Friend's Email, Friend's Phone Number
Top