Awards
We're passionate people and passionate people get noticed! Just ask our President, Jody Steinhauer. Jody is often recognized for her excellence in business and innovation.
Jody has been recognized as one of the Top 40 Under 40 business people in Canada. In 2001, Report on Business honoured Jody with this prestigious award for being one of the best, brightest and youngest achievers in Canada. Jody was chosen from a list of over 1,200 nominees for her creativity, leadership and business acumen.
In 2001, Jody received the Canadian Woman Entrepreneur of the Year Award in the Innovation Category. This award is given out to individuals that break down the boundaries of traditional business to create new and dynamic opportunities. As a passionate risk-taker, Jody embodies the entrepreneurial spirit that has made The Bargains Group the success that it is today.
In 2005, Jody was awarded the Community Award from the Toronto Board of Trade due to her dedication and commitment to helping non-profits and corporations save thousands of dollars and stretch their budgets up to four times further.
Also in 2005 , she received the internationally recognized Kauffman Community Award from the Ewing Marion Kauffman Foundation for her work helping Canada's less fortunate.
Ewing Marion Kauffman considered giving back to be the highest form of citizenship. He believed that a single person can make a difference, and the power to make a difference is irrespective of wealth. Rather, it comes when one looks inside to see what he or she has to give.With giving at the heart of its work, the Ewing Marion Kauffman Foundation established The Kauffman Community Award three years ago to honor entrepreneurs who are at the forefront of giving back. Nominees are judged on innovation, leadership, results, creative use of resources, and their programs' potential to be replicated successfully.
In 2009 Jody received the Humanitarian of the Year Award for 2009 from the Promotional Product Professionals of Canada. The PPPC recognized the amount of charitable work Jody and Bargains Group does to help the homeless invcluding Project Winter Survival and Project Water amongst others.
In September of 2012 The Good Neighbors Club annual Day of the Homeless celebrated Women in the Community Leadership with the TD Paul Croutch Awards. This event honours the leadership of women in the fight against poverty and homelessness – awards were presented to Jody Steinhauer, CEO of The Bargains Group and 3 others.
October 1st, 2012 President and CBO (Chief Bargains Officer) Jody Steinhauer, is ranked as one of Canada's Top 100 Female Entrepreneurs in the 14th annual W100 produced by PROFIT Magazine and Chatelaine.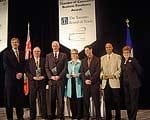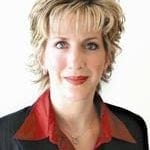 Top