Friends and Family Warehouse Sale in Toronto
What is the Bargains Group Outlet Store?
The Bargains Group Outlet Store is a one-stop warehouse sale shop for our most popular family bargains! You can enjoy friends and family sale prices with no minimum order. Due to COVID-19 we have developed options in order to keep our community safe and allow clients who want to shop from our warehouse outlet store to do so as follows: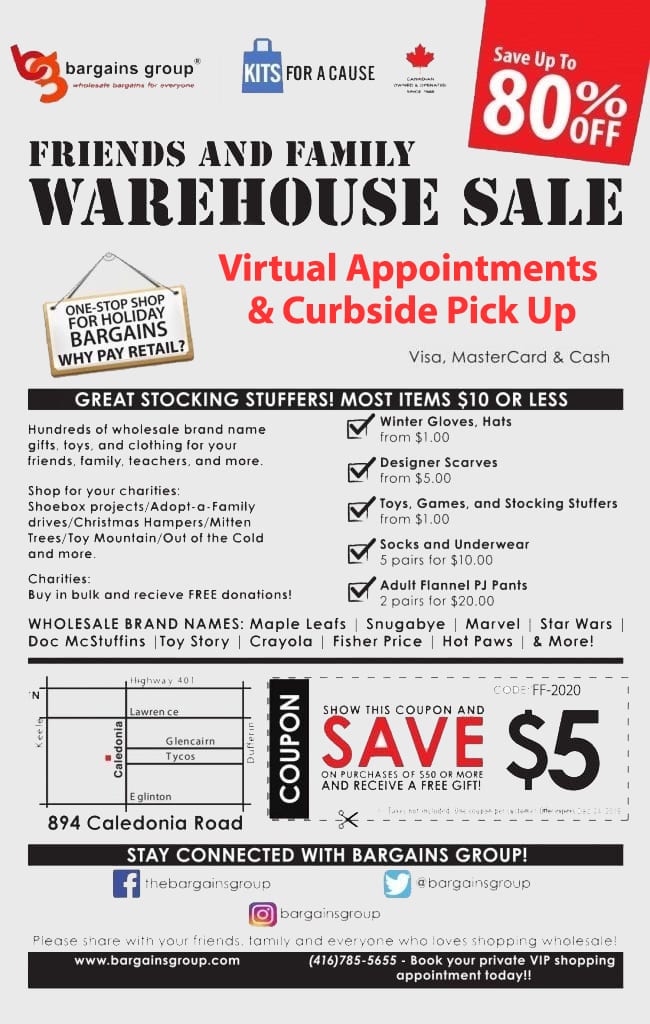 You can access our incredible wholesale bargains 3 different ways:
1. Go online tour wholesale page and make an inquiry with the items you would like submit your inquiry and John will give you a call and do a personal shop for you.
2. Give us a call at 1-877-868-5655 and tell us the types of gifts you need for your friends, family, clients and co-workers and our team will be happy to recommend the most popular choices.
3. Book a virtual tour and pick up curbside. Click here to book an appointment.
Virtual appointments are available Thursday from 9am to 5pm and Friday from 2pm to 5pm.

Traditionally we are a wholesaler, but we asked ourselves, why not make our best items available by the piece as well? Bargains for everyone, right?
The Bargains Group Outlet Store always carries lots of wholesale socks, wholesale t-shirts, wholesale PJ's, wholesale toys, wholesale winter wear and more!
If you are looking for supplies and donations for your local charity– look no further!

Bargains Group Friends and Family VIRTUAL Warehouse Sale in Toronto
**Our Warehouse Sale only occurs for 5 weekends leading up to Christmas**
Looking for a one-stop shop for your holiday gifts for friends, family, co-workers, and clients? Shop the famous annual Bargains Group Friends And Family Warehouse Sale virtually. Our retail outlet and clothing store features incredible wholesale bargains on great items including brand names, winter accessories, clothing, socks, underwear, pajamas, toys and games, stocking stuffers, and much, much more. Our warehouse-clothing outlet is stocked full of everything you need.
Most items are $10 or less! Book your virtual VIP personal shopping trip online or call! Why pay more?
Please don't forget about all of the charities that desperately need your help.
To download a copy of our flyer with a $5 coupon, click here. (**$5 coupon only applies during warehouse sale hours**)
Are you a Not-For-Profit? Click here to learn more about our "Easy Fundraising 1-2-3" Program – a program we offer that allows Not-For-Profits to fundraise simply by sharing your customized flyer for our outlet store!
Don't miss our 2021 Friends and Family Warehouse Sale in Toronto!
Location & Hours of Operation
Curb side Pick Up Location 890 Caledonia Road, near Yorkdale Mall & Highway 401 in Toronto, Ontario.
Our Friends and Family Warehouse and Outlet Sale in Toronto
Date: By Appointment Only ( click here to book an appointment or cal 1-877-868-5655)
For any questions or to book a VIP appointment, please call us at 416-785-5655 or toll-free at 1-877-868-5655, OR email us at [email protected]
Top