TAK3 ACTION X KITS FOR A CAUSE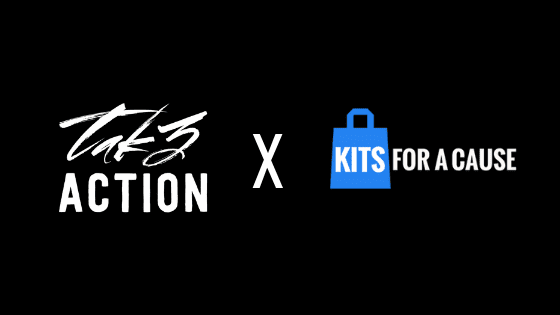 Originally posted on Kits for a Cause
They say good things come in threes and we couldn't agree more! In three easy steps, Kits for a Cause makes THREE major impact points: (1) within people that are Kit packing (2) for our charitable partners receiving the Kits (3) and on the person receiving the Kit. We've teamed up with Tak3 Action and can't wait to introduce you to their team!
Here's what you need to know:
Tak3 Action:
Tak3 Action's focus is to provide actionable tips and minimalist products, specifically designed to help you take action! For every shirt sold, Tak3 Action will donate a Tak3 Action Kit through Kits for a Cause. Whether it's poverty, racial injustice, or another circumstance, Tak3 Action will continue to learn, lean in and advocate for causes across Canada.
Kits for a Cause:
Kits for a Cause is a social enterprise that is changing the way we give back. Gone are the days of just writing a cheque to charities! People want to feel connected to their community and see the impact that they are making. With Kits for a Cause, we'll match your group to a local charity that supports your favourite cause and send you all the supplies to pack custom Kits for the charity. ANYONE can pack Kits; schools, teams, families and friends. We can all come together and make the world a better place, one Kit pack at a time.
Why this is so awesome:
Together we believe in the power of community and know that united we are stronger. Every month Tak3 Action will highlight three different causes, to raise awareness and donate Kits to! Kits for a Cause will work with our charitable partners to ensure that every Tak3 Action Kit is exactly what they need at that time!
If you'd like to learn more about how you can pack Kits as a family, school, or a corporate volunteer program, please give our team a call: 416-785-5655 or email us at [email protected].
Follow the impact here: #Tak3Action #KitsforaCause
Top