How Charities Can Spread & Win Back Holiday Cheer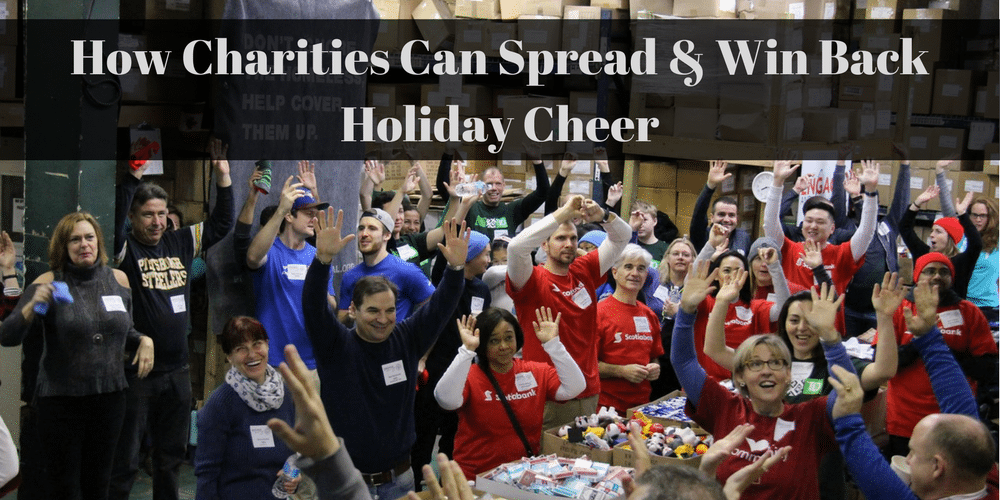 It's the season of giving – and for charities across Canada, not only is this a busy time spent packing donations and spreading joy in various communities; but the holiday rush is also perfect for rallying support among donors and getting them onboard the causes that embody not for profit organizations in the country. With these goals at heart, charities strive to make sure that the holidays are, indeed, a time well-spent giving back to local communities, so less privileged individuals can share in the joys of the season.
As we're nearing December and the holiday rush, it's already crunch time for promoting awareness about causes and building support among kind-hearted individuals with lots to share. That's why charities across Canada can largely benefit from events and tailored messages for their causes, through distributing wholesale promotional products.
Struggling to beat the holiday rush and get potential donors onboard your charity's holiday gift-giving and merriment activities for the local community? Here are some ways you can beat the rush, and build awareness – all on a budget!
Build Awareness
Warm, happy feelings and good thoughts can go a long way in inspiring volunteers and donors, but appropriate, wholesale promotional products you can give out as a token of thanks can go a much longer way. Simple and inexpensive giveaways, such as branded pens, magnets, $2 t-shirts, tote bags, and other trinkets can positively influence donors and volunteers, earning their support and active involvement in the process.
More than feeling appreciated, these everyday items are also highly usable. So every time they're out and use the promotional products given out at your last event, they also help build brand awareness. Essentially, they're sending out a message in support of your cause. The more people recognize your charity's logo, the greater the likelihood of them responding to you "ask" for support, or showing up at your next event.
Not sure when is the best time to give out promotional products? Here are some ideas to get you started:
Advocacy events
Community fairs
Trade shows
Contest prizes
Fundraisers
Public events
Recognize and Appreciate
A thank-you card, plaques, trophies, and other tokens of appreciation always go a long way. These serve as a constant reminder to your charity's donors and volunteers that they are integral to advancing your cause. This way, it's easier to motivate them to remain committed to supporting the cause, and even involve their family and friends.
You can send out cards and award plaques to donors and volunteers year-round, but the holidays present a prime opportunity for giving out specially made, season-specific promotional products as a token of thanks and holiday gifts, which you can get at affordable, wholesale prices. By showing them gratitude and involving them in your causes this time of the year, it shows that your charity also seeks to spread joy to them this season – which is always a heartwarming thought.
Holiday Shopping Finds – For a Cause
If your not for profit organization is on the entrepreneurial side, you can also take this time to present holiday shoppers with amazing finds, with the added bonus that proceeds will go to charity. Not only does this add to brand awareness, but selling products, such as crafts by the local community your charity supports, or promotional products in the form of everyday items that make great, memorable gifts, add to your revenue.
For instance, shirts, mugs, bags, office supplies, drinkware, and even winter accessories, all at wholesale prices, make great shopping finds lots of holiday shoppers will be happy to find, and gift. The best part is, a wholesale not for profit supplier can help stock up your store or event booth, at bargain prices, so your charity can earn revenue that puts you one step closer to supporting your causes this season.
Get the support your charity needs to spread joy to local communities in need of love and warmth this season. Build goodwill and earn profit that goes towards your mission with the help of wholesale promotional products to put your charity and its causes on the holiday traffic map!
Top