Charitable Bonding Activities Corporations Can Participate In this Winter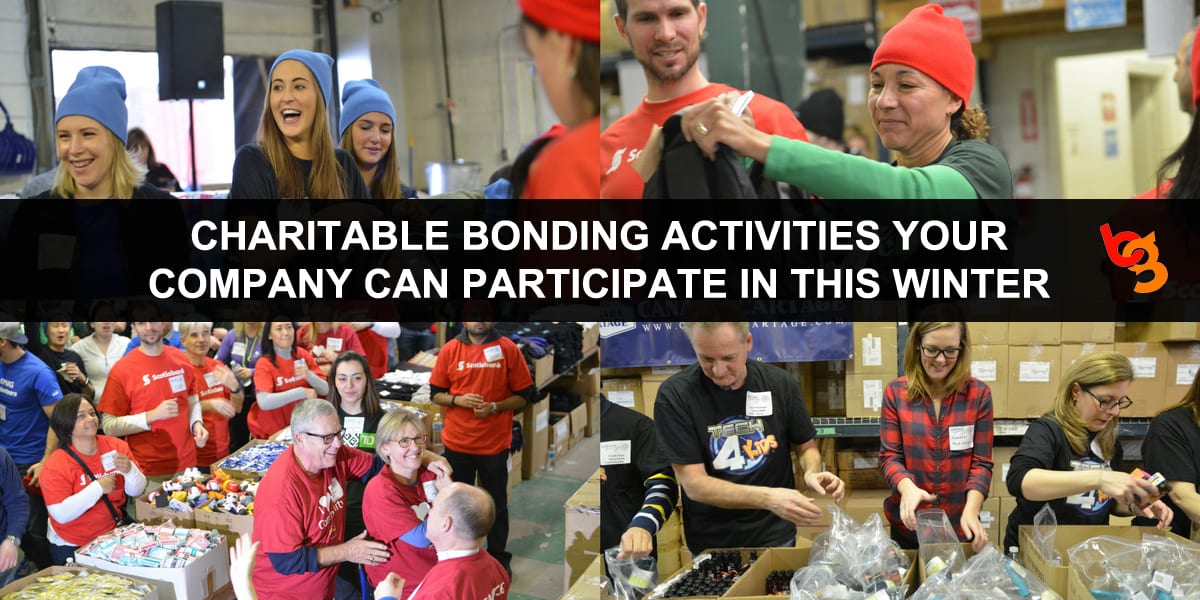 For many, the colder seasons cause us to reflect and motivate us to give back to the local community. At Bargains Group, we strongly believe in giving back to the community and love encouraging others to do the same. As a wholesale winter accessories supplier in Canada, we frequently provide wholesale products to not-for-profit organizations and shelters, helping them stretch their limited budgets up to 4 times further.
Recognizing the remarkable difference our business is able to make, always helps elevate the mood of our team at Bargains Group; as a result, we want to spread the cheer and help corporations, groups, and teams like yours experience that same 'feel good feeling', too.
Join forces with your employees this winter and make a meaningful impact by simply investing in the community and signing up for corporate volunteering activities which are both fun and charitable.
Not only is corporate volunteering an extremely effective way for companies to boost employee engagement rates, it also helps to promote a healthy, charitable culture. After all, since the holidays are all about giving and not receiving, what better gift is there to give than a simple act of kindness?
For ideas on how your company can give back to the community this season, keep reading:
Volunteer At A Soup Kitchen
Unfortunately, not everyone is lucky enough to have the opportunity to sit around a table filled with good food and enjoy a feast with their family during the winter season. For many, winter is a very brutal season to get through without adequate food and shelter.
In order for our bodies to produce heat and energy, a generous amount of food must be consumed. More often than not, this is unachievable by the homeless and food insecure populations in Canada. In fact, most of these individuals rely on the food provided by soup kitchens to stay warm this time of the year. This means that more help is required in facilities at such during the winter in order to ensure that everyone gets fed and leaves nourished.
As such, we'd highly recommend corporations seeking volunteer opportunities to lend a hand at a local soup kitchen. Help supply hearty meals to the less fortunate and allow your employees to bond over the experience of helping others in need with this unique opportunity to give back this holiday season.
If you've tried this before or you are looking for something different but equally impactful – try this:
Donate Winter Accessories To The Homeless
While soup kitchens and homeless shelters do everything they can to provide the homeless population with daily essentials such as food and a place to stay, there will always be a handful of homeless individuals who cannot access these services. At Bargains Group, we encourage corporations to consider this factor and participate in creating Kits For A Cause.
Together with your team/employees, your corporation can design customized care packages for the less fortunate. From winter kits (which include a variety of winter accessories such as toques, mittens, and scarves) to Personal Hygiene kits (which include hygiene essentials such as toothpaste, deodorant, shower gel, toothpaste and more), your team can work together to build ideal kits for those in need, at a bargain price. When the products arrive, your staff can also engage in the assembly process, allowing them to experience the charitable work first hand.
Whether it be volunteering at a soup kitchen together or assembling Kits For A Cause, your corporation can help make a big difference in someone's life this winter. Don't wait up, lend a helping hand today and help us spread the seasonal cheer!
Want to help keep the homeless population in your area stay warm this winter? As a reputable wholesale winter accessories supplier in Canada, we can help. Contact Bargains Group today or visit our website to learn more about Kits For A Cause.
Top