How the Good Old Wholesale T-shirt Inspires Goodwill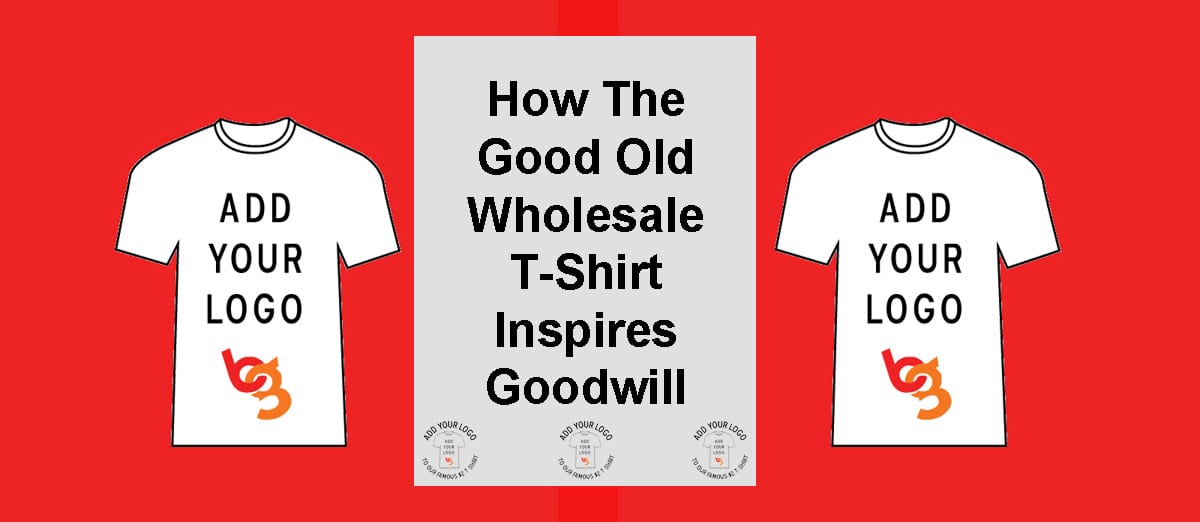 The holidays are undoubtedly one of the busiest times for not-for-profits in Toronto, and as they've come and gone, organizations are left with a new year to plan for. A lot of donors, companies, and even families are eager to spread warmth and joy during the holidays, but it's the rest of the year that presents challenges when it comes to knocking on doors and inspiring goodwill.
A key factor in maintaining a full outreach calendar, building awareness, and promoting goodwill–even when it's not that time of the year– is brand awareness. But how do you inspire goodwill even when it doesn't seem like the season of giving?
As it turns out, a lot of answers lie in the good old, not-for-profit favorite – wholesale t-shirts! Keep reading to pick up some brand awareness tips from Canada's favorite bargain wholesaler and supplier:
Wholesale T-shirts at a Bargain
If your not-for-profit received more donations than you needed to spread holiday cheer in local communities this year, then consider investing in wholesale t-shirts; a good investment for last year's savings and a great way to jumpstart this year's brand awareness campaign. By buying in bulk, you can beat regular retail prices and even get more items within your budget. With these shirts in stock, you have quick access to giveaway items. Plus, with a bit of customization, you can also retail these shirts 'for a cause' – if your not-for-profit is taking steps towards becoming more entrepreneurial and self-sufficient.
Walk the Talk
Everyone needs something to wear; so when you giveaway wholesale t-shirts to partners and volunteers, they'll be less likely to stash it away unlike last year's figurine, certificate or paperweight. Plus, with an eye-catching custom design, these shirts can go from mere statements to actual walking advertisements that not only showcase your brand, but also walk the talk for the causes you support.
Just imagine how much help it would be if each of your volunteers or partners got asked about the shirt they're wearing – these simple conversations can turn into donations and meaningful involvement which you can surely count on down the line!
Inspire Volunteerism
Apart from walking the talk in the streets of Toronto, giving out customizable wholesale t-shirts to your employees and volunteers can also help attract new talent. One-time pledges and donations are great for enabling your not-for-profit to extend help and resources to those who need it most; but inspiring a new breed of volunteers to share in your commitment is an undeniably sustainable way to keep support alive for years to come.
More than pledges and donations, you will also want to work with volunteers and attract talent that will continue the work of building awareness for the needs of the local communities your not-for-profit supports. The simple act of wearing these shirts in public can go a long way in inspiring talent to join your not-for-profit, as they look for ways they can meaningfully contribute to their local community.
Host a Contest
Admittedly, this idea has been around the block – but to this day, it remains as one of the most effective ways to engage those who support the causes that your not-for-profit supports. With the right messaging and timing on social media, it's easy to advertise this to those who support your not-for-profit and earn their participation. Plus, it's a great way for them to really connect with your causes and tackle these with a creative purpose.
At the end of the contest, you can have their designs mass-produced on t-shirts from a wholesale supplier, giving away a few shirts to the winners for free, and have an entire catalog of awe-inspiring designs come to life to help your not-for-profit become self-sufficient.
Looking for affordable giveaways that walk the talk for the causes your not-for-profit supports in Toronto? Look no further than wholesale t-shirts! Check out our curated selection of customizable t-shirts that will help you get your message across. Order from Canada's favourite wholesale supplier today.
Top